Consider this your official invitation!
Stable Craft is turning "2" on Saturday, May 5th and you are cordially invited to our Kentucky Derby Birthday Bash. We'll have 7 beer releases throughout the day, 1 Bottle Release and a whole lotta fun planned!
Mark your calendars and get your hats, this day is going to be an epic celebration.
BEER LINE-UP FOR KENTUCKY DERBY:
12pm Liola 120 Bottles 12.2% ABV
Barrel-Aged refermented Imperial IPA
Mad Lick Maibock 6.5% ABV
Wilderness Series Maibock
J.K.M.B.R.E.M.I.X 5.3% ABV
Dry hopped Kolsch-with Galaxy & Mosaic
2pm Milkshake IPA 6.8% ABV
Raspberry Mango Ipa with lactose
4pm Helles Bells 5% ABV
Helles Lager
6pm Talk Derby To Me 7.8% ABV
our take on a Mint Julep Golden Ale aged on oak chips and mint
8pm Blonde Jovi 6.8% ABV
Blonde Stout
HORSES & HATS
1-3pm 2-Legged Pony Race
3-6pm Pints & Ponies
6:30pm Running of the Kentucky Derby
6:45pm Derby Hat Contest
KENTUCKY DERBY TIMELINE
12pm Doors Open
12pm Bottle Release (only 120 BTLS)
Liola Imperial IPA [draft]
Mad LIck Maibock [draft]
J.K.M.B.R.E.M.I.X [Draft]
1pm Hops & Brewery Tours
1-3pm 2-Legged Pony Race
2pm Milkshake IPA [Draft]
3pm Hops & Brewery Tour
3-6pm Pints & Ponies
4pm Helles Belles [Draft]
6pm Talk Derby to Me [Draft]
6:30pm Kentucky Derby Race
6:45pm Derby Day Hat Contest
1) Best in Show
2) Most Creative
3) Biggest Hat
8pm Blonde Jovi [Draft]
8pm S'mores at Sunset
10pm Closing Time
---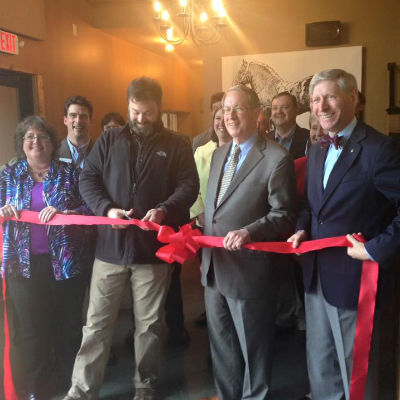 Hermitage Hill Farm & Stables marked its 10th year in operation with the grand opening on Thursday of Stable Craft Brewing Co., a destination brewery that over the course of the next year will create 20 jobs in Augusta County.
Owner Craig Nargi began work four years ago on the plans to add the brewery, which includes a tasting room, catering business and farm store. Stable Craft Brewing Co. will operate on the premises with Hermitage Hill Farm & Stables, which opened in 2006 and includes, in addition to the working horse farm, a thriving agritourism business that brings weddings and conference events on grounds 30 weekends a year.
"The addition of the new reception space and the brewery tasting room embraces agriculture, the equestrian world and the nuances of a resort," said Nargi, who brings more than 25 years of hospitality experience in resorts and hotels, including leadership roles in high-profile resort kitchens including Keswick, Wintergreen and Kiawah Island Resort, to the project.
Those on hand for the grand opening event at Stable Craft Brewing Co. on a rainy springtime afternoon included Sixth District Congressman Bob Goodlatte, State Del. Steve Landes, the vice chair of the House Appropriations Committee in the Virginia General Assembly, Mary Rae Carter, a special assistant in rural development in the office of Gov. Terry McAuliffe, and Augusta County Board of Supervisors Chair Carolyn Bragg.
Bragg played up the homegrown theme, talking up the importance of small business as the foundation of the local economy.
"At the end of the day, it is these companies, and the hard-working citizens of Augusta County, that enable us to have a strong local economy," Bragg said. "On behalf of the Board of Supervisors, I extend my sincere gratitude to Craig and Nikki for their continued business presence in our community. First you opened Hermitage Hill Farm and Stables, a premier event venue on a pristine rural landscape, and now we have Stable Craft, a true farm brewery honoring the agricultural background of Augusta County."
Goodlatte also highlighted the growing small business element to the story of Stable Craft Brewing Co.
"As we recognize National Small Business Week, it is the kind of folks like Craig and Nikki that put the time, effort, money and risk into taking the small business they already have to a new level by creating this great brewery," Goodlatte said.
"I believe this is just one more extension of the agritourism theme that you have here," Goodlatte said. "It fits right into the rest of your model for economic growth, and I commend you for being willing to take that risk and grow our economy and create jobs right here in the community."
Stable Craft Brewing Co. will produce craft beer literally from the ground up, with a hop yard that will begin with the planting of 760 hops, growing to more than 1,500 over the next year, with a head brewer on staff to oversee the production of 16 beers that will showcase Nargi's long and successful track record exploring flavors.
Food will be also available through Hermitage Hill's onsite catering operation.
"As opposed to being a hospitality business with a farm thrown in, we have always seen ourselves as a working farm first and foremost," Nargi said. "The brewery and farm store will allow us to share the farm experience on an even larger scale while providing local beer aficionados with a unique addition to the craft brewery landscape here."
Carter, who has worked in the rural development arena under the two most recent Virginia governors, first Republican Bob McDonnell, continuing in the administration of Democrat Terry McAuliffe, said Stable Craft Brewing is "the epitome of Virginia-grown, homegrown."
"You are certainly the new Virginia economy. Growing businesses like this is very important," Carter said.
Landes noted the growth of the craft beer industry in the past five years, with an estimated economic impact of more than $1 billion and more than 8,900 jobs created in the sector. The last count has more than 140 working craft breweries in operation in the Commonwealth, "and this facility will add Augusta County to the list of places that people come to visit," Landes said.
"From my standpoint, this business follows what we're trying to do in Virginia to bring businesses into the Commonwealth and grow the existing businesses that we have, but more importantly to bring people to the area to share in good beer and have a good time in the area as they're doing it," Landes said.
Story and video by Chris Graham
---