Craft Beer – Robust, dark, & enjoyable
Next up in our craft beer lineup series is the Britchin Brown Ale! With a name like "Britchin Brown" it is hard to overlook this beer. This brown ale has a roasted, nutty taste that truly showcases the malt flavor with a ABV of 5.5%. It has a strong-pull mouthfeel that is enough to lure in any craft beer lover. A well-made brown ale is typically characterized as a combination of toffee, nuts, and toast flavors. Chocolate notes are notorious for brown ales, while moderate hop bitterness brings a brassy middle. Far from boring, good brown ales will delight the taste buds-they are typically the perfect balance of not too heavy and not too light! If you fall in love with the Britchin Brown Ale, it is bottled and distributed from buds to suds!
Brown ales pair well with hearty foods, such as smoked salmon, brisket, or smoked sausage. Cheeses such as aged gouda also go well with the Britchin Brown, perhaps try pairing it with our cheese plate containing: asiago, cheddar, pimento, sun-dried tomato, and goat cheese served with pickled veggies. Tomorrow our featured beer is the Night Latch American Stout. This beer is a close cousin to the Britchin' Brown, as it is also a dark beer with a roasty, chocolate finish. Stay tuned as our craft beer week lineup continues on!
---
It's the most wonderful time of the year!
Stable Craft Brewing has invited Santa to come see all the munchkins on Dec 18th from 11am-2pm
Enjoy our delicious Craft Beer Brunch and let the children visit with Santa Claus! We'll be serving up our pimento cheese grits, fluffy biscuits smothered in homemade sausage gravy, and smiles on your little one's faces. Our craft beer and bacon brunch will be all the more merry with Santa here to help bring the cheer.
Visit with Santa, enjoy delicious homestyle brunch, grab a last minute Christmas gift from our farm store, or cozy up near our indoor fireplaces.
Make plans to visit with all your loved ones, and Santa on December 18th from 11am-2pm!
---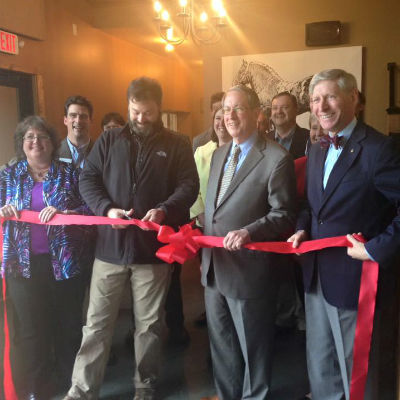 Hermitage Hill Farm & Stables marked its 10th year in operation with the grand opening on Thursday of Stable Craft Brewing Co., a destination brewery that over the course of the next year will create 20 jobs in Augusta County.
Owner Craig Nargi began work four years ago on the plans to add the brewery, which includes a tasting room, catering business and farm store. Stable Craft Brewing Co. will operate on the premises with Hermitage Hill Farm & Stables, which opened in 2006 and includes, in addition to the working horse farm, a thriving agritourism business that brings weddings and conference events on grounds 30 weekends a year.
"The addition of the new reception space and the brewery tasting room embraces agriculture, the equestrian world and the nuances of a resort," said Nargi, who brings more than 25 years of hospitality experience in resorts and hotels, including leadership roles in high-profile resort kitchens including Keswick, Wintergreen and Kiawah Island Resort, to the project.
Those on hand for the grand opening event at Stable Craft Brewing Co. on a rainy springtime afternoon included Sixth District Congressman Bob Goodlatte, State Del. Steve Landes, the vice chair of the House Appropriations Committee in the Virginia General Assembly, Mary Rae Carter, a special assistant in rural development in the office of Gov. Terry McAuliffe, and Augusta County Board of Supervisors Chair Carolyn Bragg.
Bragg played up the homegrown theme, talking up the importance of small business as the foundation of the local economy.
"At the end of the day, it is these companies, and the hard-working citizens of Augusta County, that enable us to have a strong local economy," Bragg said. "On behalf of the Board of Supervisors, I extend my sincere gratitude to Craig and Nikki for their continued business presence in our community. First you opened Hermitage Hill Farm and Stables, a premier event venue on a pristine rural landscape, and now we have Stable Craft, a true farm brewery honoring the agricultural background of Augusta County."
Goodlatte also highlighted the growing small business element to the story of Stable Craft Brewing Co.
"As we recognize National Small Business Week, it is the kind of folks like Craig and Nikki that put the time, effort, money and risk into taking the small business they already have to a new level by creating this great brewery," Goodlatte said.
"I believe this is just one more extension of the agritourism theme that you have here," Goodlatte said. "It fits right into the rest of your model for economic growth, and I commend you for being willing to take that risk and grow our economy and create jobs right here in the community."
Stable Craft Brewing Co. will produce craft beer literally from the ground up, with a hop yard that will begin with the planting of 760 hops, growing to more than 1,500 over the next year, with a head brewer on staff to oversee the production of 16 beers that will showcase Nargi's long and successful track record exploring flavors.
Food will be also available through Hermitage Hill's onsite catering operation.
"As opposed to being a hospitality business with a farm thrown in, we have always seen ourselves as a working farm first and foremost," Nargi said. "The brewery and farm store will allow us to share the farm experience on an even larger scale while providing local beer aficionados with a unique addition to the craft brewery landscape here."
Carter, who has worked in the rural development arena under the two most recent Virginia governors, first Republican Bob McDonnell, continuing in the administration of Democrat Terry McAuliffe, said Stable Craft Brewing is "the epitome of Virginia-grown, homegrown."
"You are certainly the new Virginia economy. Growing businesses like this is very important," Carter said.
Landes noted the growth of the craft beer industry in the past five years, with an estimated economic impact of more than $1 billion and more than 8,900 jobs created in the sector. The last count has more than 140 working craft breweries in operation in the Commonwealth, "and this facility will add Augusta County to the list of places that people come to visit," Landes said.
"From my standpoint, this business follows what we're trying to do in Virginia to bring businesses into the Commonwealth and grow the existing businesses that we have, but more importantly to bring people to the area to share in good beer and have a good time in the area as they're doing it," Landes said.
Story and video by Chris Graham
---